Houghton Conquest Bangers
Bury Farm
Bedfordshire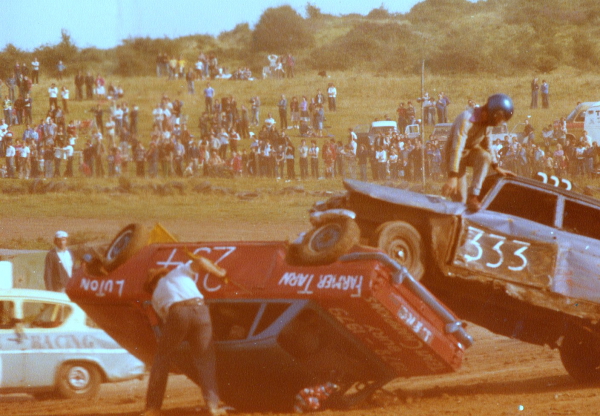 Alan Tarn (294) in typical action

Bury Farm was renown amongst fans in the 70s and 80s boom
years of dirt track banger racing. Alas in the mid 80s wet summers and
problems with the local council caused the track to close. As can be seen
in the photograph above the viewing for spectators was excellent.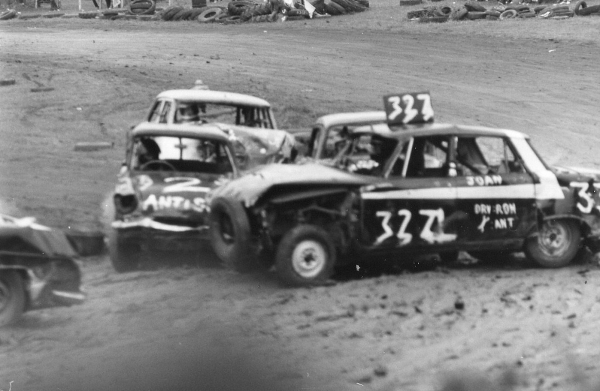 Heavy action on the bottom bend

The track sloped down to the bottom bend and this is where most heavy
crashes and rolls happened. Races were rarely halted because of rolls and
marshals worked dangerously to get drivers out of their cars and off the
track (see photo below).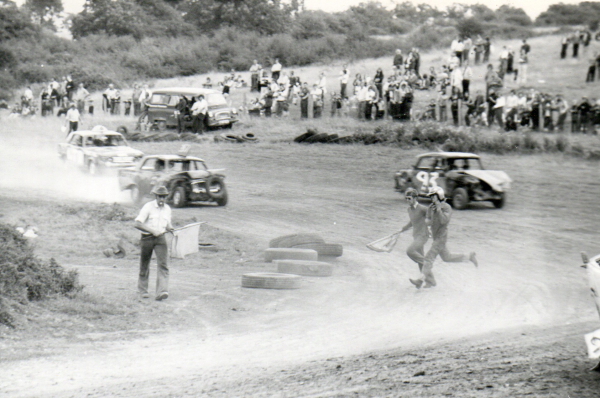 Marshals helping a driver out of danger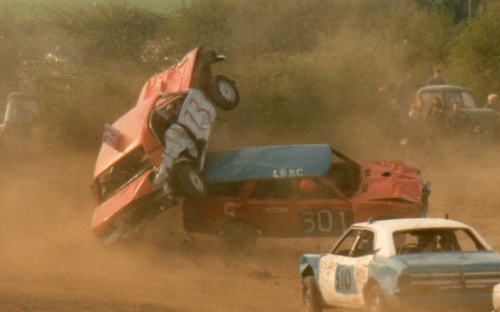 Rolls were often very spectacular

Bury farm was run by Dave and Mick Gallard and their trusty helpers including
Dave Wooding who was the starter, not an easy job at Bury Farm. Every meeting the
loudspeakers carried the announcement time and time again '' theres another
one over on the bottom bend''. Meetings were run with 3 heats, 2 ,consolations
final and figure 8 or Destruction Derby. Between the bangers were Mini-hotrod races.
On the other side of the track from the spectators was a ditch complete with hedge
into which cars often dived ending their race nose first.


''Roller Bowler'' living up to his name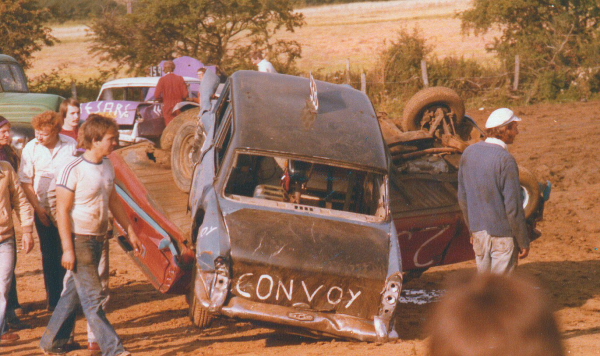 Mick Gallard (white cap) surveys wrecks

Amongst the teams who regularly raced at Bury were Bedford,
The Catpack, Eastaffs, Eagles, Wheels, SABRE (St Albans), Letchworth
Lions, Hillbillies, Mafia, Phoenix, Road Runners, Gemini and
of course Luton captained by Alan Tarn. Alan Tarn is still racing
in his 41st of competing. Click here for the Luton Banger page.
A lot of advice from Alan helped build these pages.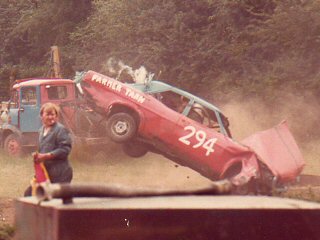 Alan Tarn Flying with Joe Stone with Flags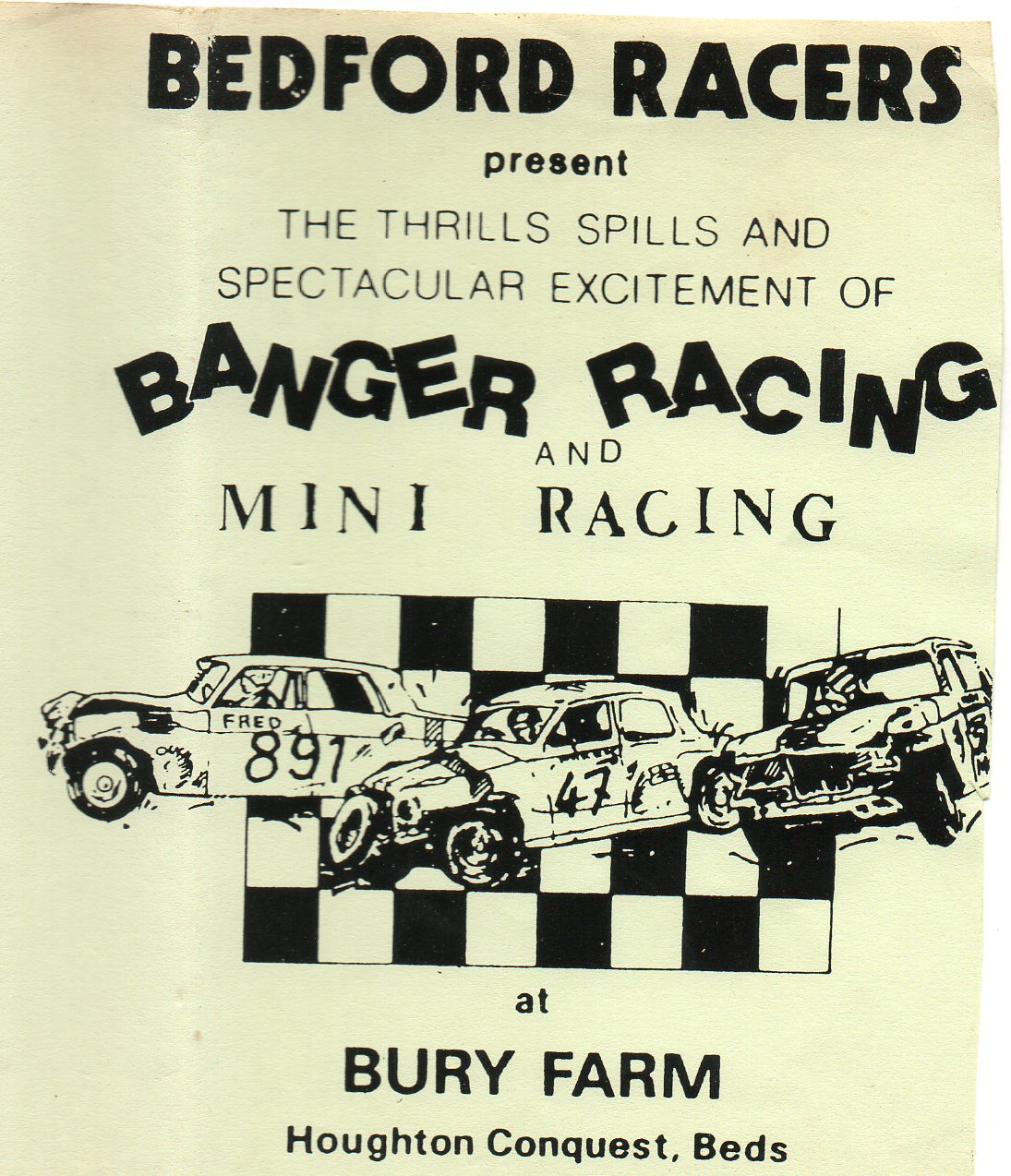 Front Cover of Programme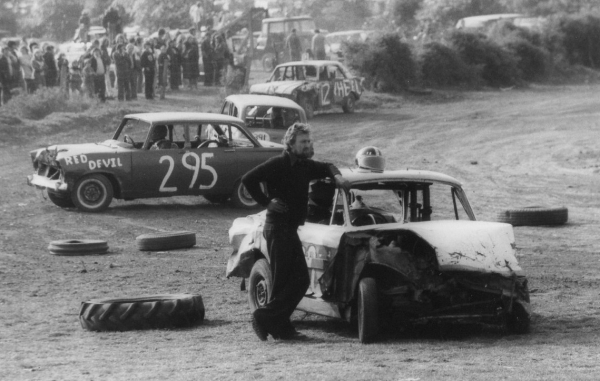 Bottom bend with pits beyond

Amongst Celebrities who have raced at Bury Farm was
Singer Ricky Valance who appeared in a bright yellow car
with musical notes painted over it. Trevor Cole remembers
he was in the same race as Ricky but states others got to Valance
before he had the chance to.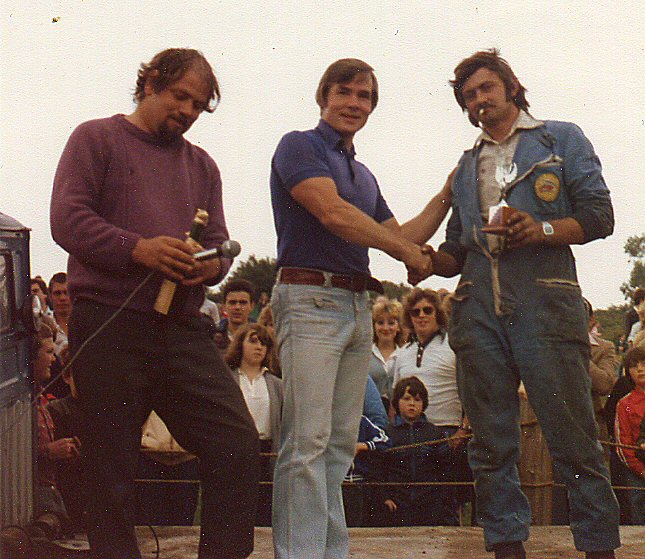 Ricky with Dave Gallard and Alan Tarn

Bury Farm DVDs now on Sale
26-6-86 Brian Gunnell Memorial 51mins
25-5-86 +hilites of 5-5-86 and 1st meeting of 1986
21-9-86 50mins
28-9-86 53mins
30-8-87 Fig8 Champs 48mins
31-8-87 45mins
16-8-87 Brian Gunnell Mem 51mins
All at £6 inc PP, Any 3 for £12 inc PP and Full Set for £26

start of a ladies race, Dave, lap scorer, checking grid positions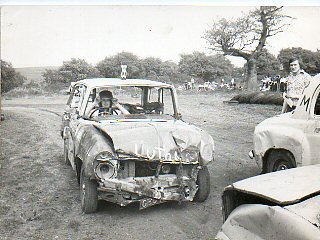 Bury Farm as it is Now